M&M International launch the new extended range of process solenoid valves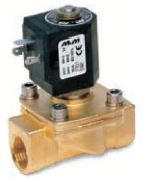 M and M International have launched a new range of solenoid valves for process control applications. The new RSV valve replaces the D188 – D233 range of pilot operated valves with assisted lift.
The 'zero' pressure rated valves improve on the already excellent performance of the predecessor and provide many other added benefits, including options for brass or stainless steel bodies, WRAS approval, normally closed or normally open configurations, uprated pressure, high powered coils, seal options of EPDM, NBR or FKM.
Port sizes range from 1/2″ to 1″ with options of coil voltages, 12vDC, 12vAC, 24vDC, 24vAC, 110vAC, 230vAC. The RSV solenoid valves are available from stock now. Please contact us for further details.