Kit For Sowing Machines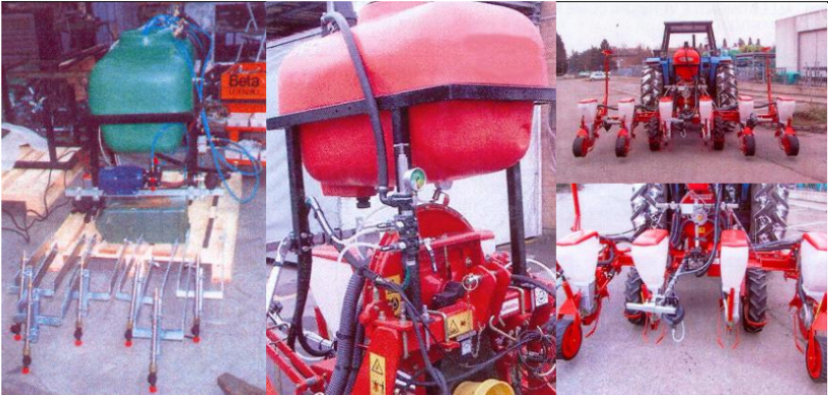 Equipment used for weedkilling. It is fit to sowing machines led by farm tractors and distributes liquids on the ground during the sowing process.
Construction Diagram Of The System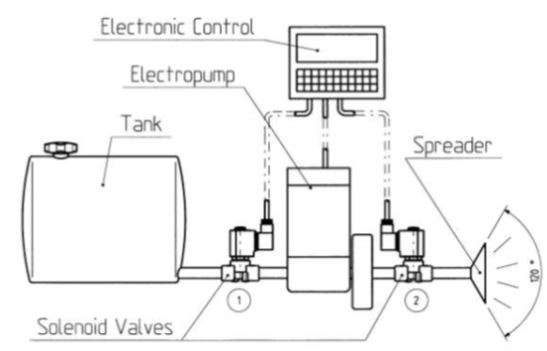 Solenoid Valve Application
View our full range of Solenoid Valves
The liquid from the tank is centrifugated by the electropump and sprayed on the ground by a blade spreader positioned at the back of the machine, with a 120° inclination.
The solenoid valves and the electropump are operated by an electronic control in three different stages.
In the first stage the electropump is operated. The solenoid valves letting the liquid into the spinning electropump (started working stage) are then operated.
The third stage anticipates the closing of the first solenoid valve and allows the electropump to drain the liquid remaining at the end of the process.
Solenoid Valves Used

You can buy M&M International Solenoid Valves online through the V-Flow Solutions web shop
This application requires a steady delivery of liquid under pressure (5 bar). If a pilot operated solenoid valve were used in this application, the weedkilling liquids would clog the nozzle of the diaphragm.
Therefore a 2-way direct acting solenoid valve is recommended. The type suggested above has a 4 mm main orifice (the largest orifice that can be used to satisfy the requested performances).
The Viton seal is suitable for controlling weedkilling liquids (pesticides, herbicides, fungicides, insecticides). The supply of the farm tractor cab makes it necessary to use the valve with a 12V DC coil.
If you would like to speak to a member of our technical team regarding the solenoid valves above, or to create a bespoke unit for your application call us on 01234 855888 or send us an email